Al-Bayan International School is excited to announce a new partnership with PSG. Together, we are launching a Football Program here at BIS in 2022-2023 school year for our after-school activities. This program has been designed specifically for schools and educational institutions.
Term: from April 30, 2023 until May 31, 2023
Monday & Wednesday
Duration: 2:15 pm to 3:15 om (60 min per session)
Gender: Boys & Girls
Fees: enrolment: KD 80
Paris Saint-Germain football club was created in 1970. Since QSI's purchase of the club in 2011, Paris Saint-Germain has transformed to become one of the top football clubs and global sports brands in the world.
The Club has then won 20 trophies in only seven years, 38 in its history becoming the most successful football club in France with many great players including Ronaldinho, Beckham, Ibrahimovic, and currently Neymar, Messi and Mbappé.
The international popularity of the Club never stops growing. It is now one of the most followed club in the world with over 65 million social media followers. Paris Saint-Germain diversified over the years and now includes men's football, women's football, handball, judo and E-sport sections, which all compete at an elite level. Getting involved with children and young people is fundamental to the club, and the Academy programs contribute to this both in France and abroad.
PSG VISION AND ETHOS
Social inclusion, teamwork, excellence, and respect are at the heart of the Paris Saint-Germain Academy core values. Our young stars will learn to play with Paris Saint-Germain's values and will be taught to be proud of their club, respect their teammates, their opponents, and the referee. It symbolizes Paris Saint-Germain's commitment to youth development, via unique cultural and sporting experience.
PSG PHILOSOPHY
The Paris Saint-Germain Academy is committed to passing on the Club's philosophy and values of possession-based football, enjoyment, education and personal balance. All of the young boys and girls joining us at the Paris Saint-Germain in Kuwait will have the unique opportunity to play football, make new friends and develop their skills in a fun and relaxed environment.
Why PSG
The Paris Saint-Germain Academy proposes a unique methodology, created by the technical direction of the club and common to all the Paris Saint-Germain teams, from the youth academy to the professional team. The Paris Saint-Germain academy programs follow the club's philosophy of play, based on game mastery and ball possession which celebrate an efficient and spectacular football.
Our goal is to build strong individual players which always serve the collective, team spirit being one of the main values of Paris Saint-Germain's game project. Creating intelligent players who understand the game and adapt to different situations is of the club's main goals. Growing up, the player will be able to take the correct decisions independently thanks to a good perception of the game.
Generating a solid work ethic is one of the main values of our education. The objective is to develop altruistic players, who can repeat high intensity efforts together for the benefit of the team. The final goal of the Paris Saint-Germain Academy is to build good football players but also to transmit strong educational values which will be part of the child day to day life.
A RENOWNED METHODOLOGY
Each Coach is specially trained in the Paris Saint- Germain methodology, to guarantee quality coaching. The training sessions are devised by the club's technical staff and follow the Paris Saint-Germain playing philosophy, while adapting to the level of each child.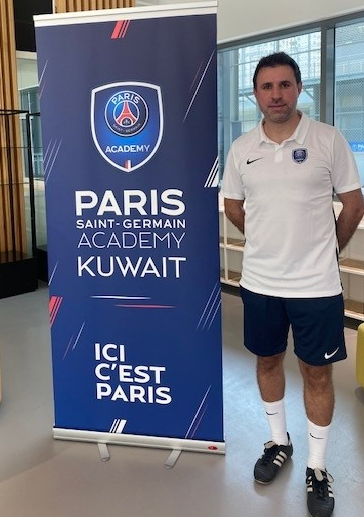 Roy Abi Elias
Head Coach, PSG Academy Kuwait
Roy holds a UEFA 'A' football coaching license as well as AFC 'C' Futsal Licence with the English Football Association. Roy is a highly experienced international coach, with a proven track record in developing talent.
He worked with professional clubs and academies on player development in England, Romania and Lebanon producing players for the professional game such as Jordan Ibe, Mathew Cash and Mathew Ingram, who all have played professionally in England. His latest achievement has reached the quarter finals of the ISF World Schools championships 2019 in Serbia. He has achieved 2nd Place in the AFC-U19 Championship 2020 Qualifiers ahead of Syria and Maldives.
Roy is specialized in utilising modern training methods, effective communication techniques and committed to fostering a positive team environment conducive to success.